Cabinet
Engineered to Keep Your Hot Tub Warm in Any Climate
Thermo-Guard™ Full Foam Insulation
High-density insulation locks all plumbing firmly in place. Closed cell foam provides additional structural support and helps repel water. Energy efficiency is increased with the standard application of Shell-Loc™ Foam Technology and Thermo-Layer™ Cabinet Insulation.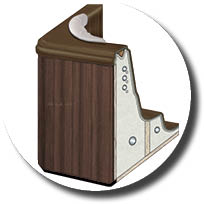 Rotomold Structure and cabinet with Lifetime Guarantee
All Rotomold Spas are uniquely formed using a rotational molding process where the spa shell is spun on two axes to form the desired mold.
rotomold rock™ accent panels
These breathtaking accent panels, standard on 3 models, feature a unique rock design and complement any backyard landscape. Not offered on GR-510R spa.

Hydro-Armor™ Spa Cover WITH TAPERED DEDIGN

This 4" thick cover tapers to 2.5" at the edges to prevent precipitation from pooling. This shield features safety locks and straps with a dense foam core to ensure superior thermal insulation.