Experience Home Resort Living
Imagine your perfect Home Resort experience. The water in your hot tub is pristine and glistening. As you soak, the massaging heat slowly melts your cares away and transports you to bliss. Nearby, the promise of a sumptuous meal teases your taste buds as it grills to perfection in your outdoor kitchen. After dinner, enjoy a quiet sunset as warm flames dance beside you in your firepit. Finally, cue up your outdoor television, turn up the surround sound and watch a movie under the stars. What if this Home Resort experience could be yours everyday?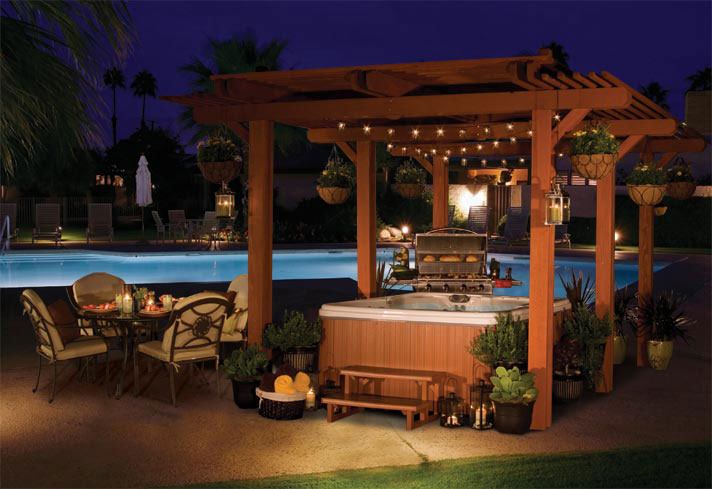 With Cal Spas, the wait is over. Introducing the Cal Spas Home Resort-a complete lineup of Home Resort and wellness products designed to turn your Home Resort dream into a valued addition to your home. A Cal Spas Home Resort is a fun, functional and beautiful place to enjoy with friends and family or indulge in personal relaxation and solace.
Other benefits:
Improving your outdoor living space
Saving time and money by vacationing at home
Escaping from daily routines
Savoring tasty, healthy meals year-round
Rejuvenating your mind and body
Enjoying quality time with friends & family
Treasuring time alone
Enjoying spending time at home
Why Cal Spas?
You're passionate about your backyard. You deserve a brand that is equally passionate about making your outdoor living dreams a reality. At Cal Spas our passion-our business- is turning ordinary backyards into extraordinary dream Home Resorts.
Choose Cal Spas today and find out why customers around the world agree that nothing compares to a Cal Spas Home Resort:
Brand: Choose The Name You Can Trust. When you select Cal Spas, you join a global network of satisfied customers that has been growing since our company was established in 1979. Each year, Cal Spas earns awards for quality, service and innovation and is recognized today as the #1 Global Manufacturer of Home Resort Products.

Selection: What You Want the Way You Want It. Cal Spas is the only manufacturer to provide more than 250 product models with thousands of customized options to create the backyard of your dreams.
Quality: Quality Isn't a Luxury; It's a Standard. Every Cal Spas product is crafted with the utmost attention to quality and is rigorously tested to the highest industry standards.
Innovation: Because You Deserve the Best.
Our products incorporate the latest technological advancements and innovations. Cal Spas holds 28 trademarks, 48 design patents with more coming soon!
Value: Get the Most for Your Money. At Cal Spas, we appreciate the value of a dollar. We pack more standard features into every product we build-without raising the price. We're committed to building value into all of our Home Resort products.
Style: Good Taste Is Always In Style.
Whether your dreams include a full outdoor makeover or selected additions, Cal Spas Home Resort products are designed to form an integrated backyard with coordinating colors and finishes for designer appeal.
Vision: The Only One-Stop-Source for Your Home Resort.
Only Cal Spas has everything you need to create your Home Resort. Your spa, BBQ, fireplace and more can be ordered and installed by your Cal Spas dealer.
Service: Customers Come First.
We worked hard to earn our reputation and are committed to keeping it. We stand behind each of our products and our dealers provide in-home service.
Team: Great Products Start with Great People. Our employees have been part of the Cal Spas family for years and bring extensive experience and product knowledge to each innovative product we design.
Convenience: Local Dealers Make Remodeling Easy.
Our worldwide network makes it easy for you to find a certified dealer in your home town. Our associates are trained to match you with products that fit your home and lifestyle and our dealers provide professional installation services!

Engineered For Excellence
When you buy from Cal Spas, you buy peace of mind, knowing your investment is designed with safety and top quality for you and your family. Cal Spas Home Resort products have undergone rigorous testing and are certified by several independent product safety organizations.
A 30 Year History of Excellence
The Cal Spas story begins thirty years ago at a crowded county fair. The year was 1978 and California Acrylic Industries was a Pomona, California based pool builder in need of a way to exhibit a large variety of pool designs in a small space. To solve this dilemma, the company created small scale versions of its formed acrylic pools and put them on display for customers. The miniature pools sparked interest and the company began to receive special requests for acrylic hot tubs. A year later, with the company's hot tub business growing, California Acrylic Industries took a leap of faith. The company stopped building pools and focused full-time on the hot tub business-and Cal Spas was born.
Cal Spas began with a small selection of hot tubs in a choice of only a few colors and styles. Gradually, the brand grew in popularity and within a few short years, Cal Spas began nationwide distribution. The company outgrew its 10,000 square foot manufacturing facility and moved company headquarters to its current 40,000-acre location in Pomona, California.
In 1995, after 16 years in the spa business, the company embraced a new direction and established its mission to grow Cal Spas into a global leader in luxurious outdoor living products. In 1997, the company launched the tagline "Changing The Way You Feel" to reflect its mission to serve dealers and customers with a full collection of Home Resort products. Shortly thereafter, Cal Spas began a gradual rollout of gazebos, barbecue islands, fireplaces, firepits and saunas.
Today, the celebrated hot tub maker is world renowned as the #1 Global Manufacturer of Home Resort Products. Cal Spas produces premium collections of lifestyle products from its headquarters in Pomona, California and distributes worldwide through a network of specialty dealers.
The Cal Spas brand family of products includes Cal Spas hot tubs and swim spas, Cal Designs gazebos, Cal Heat indoor and outdoor saunas, and Cal Flame high-end outdoor grills and hardware, barbecue islands, outdoor fireplaces and firepits.
From our humble beginnings selling swimming pools to our future in the homes of families around the world, Cal Spas remains committed to giving you new ways to enjoy the outdoors at an unbeatable value for any budget. Let the Cal Spas story continue with you.
From our family to yours, bring home the integrity, craftsmanship and fun of Cal Spas today!
The Buzz About Cal Spas
Cal Spas products are designed and tested to rigorous quality standards and are recognized by third party organizations worldwide for quality and innovation.
Recent honors include:
A Consumer's Digest Best Buy
Cal Spas Avalon A857B and A857L hot tubs have been recognized with a prestigious Consumer's Digest Best Buy award. Our continued recognition by trusted organizations and the media is a reflection of our unwavering commitment to serving customers with top quality products.
Vesta Awards, Hearth & Home Magazine
Cal Flame has received many Vesta awards over the years in recognition of the company's innovative products in the barbecue, hearth and outdoor living categories.
Spasearch Certified, Spasearch Magazine
Cal Spas has been ranked as a Spasearch Certified manufacturer for the third year in a row. As part of the certification requirements, customers were asked about their satisfaction with product quality, reliability, ease of use, value and overall satisfaction with their Cal Spas purchase. Customers also assessed their experience with the Cal Spas Dealer-noting their satisfaction with the dealer's professionalism, product knowledge, and installation and delivery services. Cal Spas has been recognized as a leader in the industry and as an elite member of the top 5 percent of hot tub manufacturers in North America that consistently provide a superior buying experience.
"Spasearch Certified manufacturers, like Cal Spas, are taking the lead in the industry by providing superior products and customer service."
– David Wood, Spasearch Publisher
Best of Class, poolandspa.com
Poolandspa.com has consistently featured Cal Spas in their industry coverage and for the last three years has recognized Cal Spas with the "Best of Class" award for exceptional products and customer service.
Renowned for style, innovation and an unrivaled vision in comprehensive Home Resort offerings, Cal Spas continues to captivate industry experts and homeowners around the world through national and international press coverage. Popular home improvement shows often turn to Cal Spas Home Resort products to inspire dramatic home make overs. Cal Spas hot tubs, barbecue islands, fireplaces, firepits and complete Cal Spas Home Resorts have appeared in broadcast segments and print stories worldwide.

Here are a few of the appearances we've made recently:
Discovery Channel: Monster House
DIY: Yard Crashers
Extreme Makeover: Home Edition
Fox Sports Network
Good Morning America
HGTV: Carter Can
KTLA Morning News
Live with Regis & Kelly
Redbook Magazine
The Early Show
The Los Angeles Times
The Price is Right
The Wall Street Journal
Time Magazine
TLC's While You Were Out
U.S. News
USA Today
VH1: Celebrity Fit Club
To see our most recent press coverage and to watch video clips please visit our web site at www.calspas.com.