Water Care
Experience Romance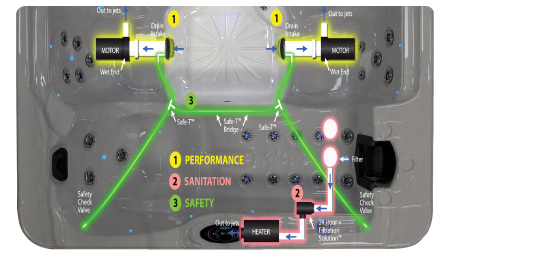 EXCLUSIVE STOR-DRY™ WINTERIZING PLUMBING SYSTEM

All lines are plumbed to the drain valve to enable full water drainage and protect the spa from freezing during cold winter months.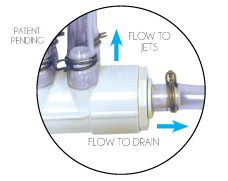 100 SQ. FT. TELEWEIR FILTRATION SYSTEM

• Cleanable / Reusable filters promote easy maintenance
• Engineered to maintain water clarity with fewer
filter cartridges, saving time and money
• TeleWeir is designed for easy filter maintenance and preventing debris from reentering the spa

QUIET CLEAN™ 100% FILTRATION SYSTEM

• A 24-hour circulating pump constantly and quietly heats the water
• Continuously filters heated water
• Quietly operates through the Cascade Waterfall
• Saves energy by minimizing therapy pump operation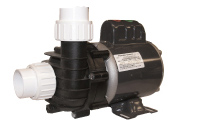 Invigorating Massage Jets
Velocity offers a varied selection of hot tub jets, each with their own specialized function. These massage therapy jets are strategically positioned to deliver relaxing hydrotherapy massages that target specific stress areas of your body. With a simple twist of the wrist, you can turn each jet on or off for ultimate customization.
Euro Jets (Patent Pending design)
Euro Jets deliver a steady stream of water to evenly massage pressure points in your back, shoulders and neck.

Directional Jets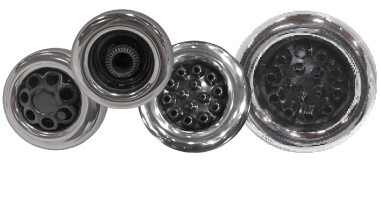 Directional Jets incorporate an inner adjustable nozzle that can be moved with the tip of your finger to massage a wider area of your back and neck.
True Blue Vacuum Safety Break

This life-saving feature prevents entrapment by automatically
reducing the water flow in the event of an obstruction.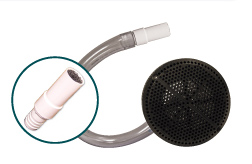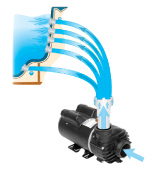 POSITIVE PRESSURE SYSTEM
• Positive Pressure System distributes water flow evenly
to all jets to deliver an optimal therapeutic massage
• Custom Flow-Thru™ manifolds reduce turbulence and
improve water delivery to all jets

PURECURE™ UV WATER SANITIZATION SYSTEM

PureCure™ is an innovative water clarity system that successfully purifies water by using the power of natural ultraviolet light to kill the bacteria, algae and viruses often associated with traditional ozone and water clarity systems. PureCure™ delivers smooth, silky spa water that will leave you and your skin feeling clean and fresh.
The benefits of the PureCure™ Include:
• Kills 99.9% of germs
• Effective, Reliable and Effortless
• Smooth, silky spa water for a
clean and fresh feeling
• Natural ultraviolet light
• No odors
• Easy maintenance - only an annual
bulb replacement is needed
• Reduced scum lines
• Purifies without off-gassing or releasing chemicals into the air
Exclusive Clarity™ II
Salt System

Sodium bromide (NaBr) is an effective bacteria killer that should be part of every hot tub's water clarity regimen. The eco-friendly Clarity™ II Salt System instantly turns salt into bromine to keep your hot tub water clean and fresh. This perpetual sanitation cycle kills bacteria, algae and other pathogenic organisms without ever requiring additional sodium bromide. A dedicated digital topside display monitors the salt levels of your spa at all times. The Clarity™ II Salt System also eliminates the need for an Ozonator. The following features offer you a peace of mind: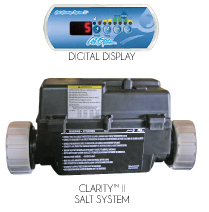 • Reduced chemical use = increased savings
• Reduced chemical damage to the spa equipment
• Increased spa lifetime
• Automatic and complete water sanitation
• Automatic bromine generator

• No floaters or feeders
• Odorless, silky water
• No quarterly draining
• No scum lines
• ETL listed