Water Features
Tropical Paradise
Exclusive Fibersteel™ Construction
• Patented 7 layer laminate system reinforced with steel and wood creates one of the strongest shells in the world
• The Industry's highest resin-to-fiberglass mixture
• Thickest fiberglass backing in the industry
• Available on all Cal Spas models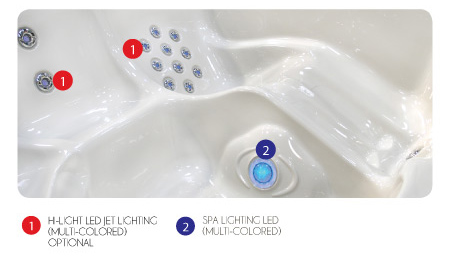 Therapeutic Design
• Seats are contoured to cradle the body and jets are strategically placed along the lines of the body for maximum therapy

Headrests
Comfortable Infinity or Cascade pillow headrests complete the therapeutic experience and allow you to lean back and relax. Not available on Z518R Spa.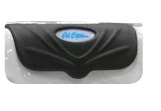 Multi-Colored LED Spa Lighting

The 5" LED Spa Light adds a touch of romance to your swim spa and can be programmed to alternate between seven colors on two color modes or shine on a particular hue. Premium LED lighting package standard on VP models.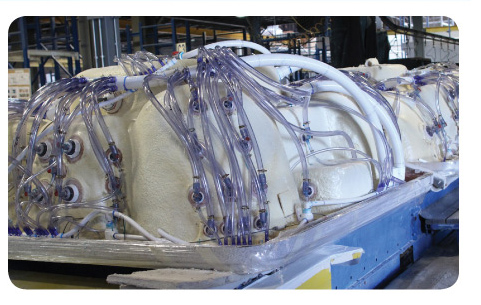 Thickest Acrylic Available

• Reinforced areas of the spa keep the shell strong at critical stress points
Patented Hi-Light LED Jet Lighting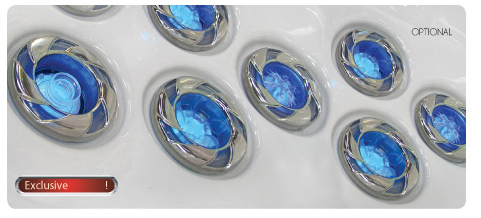 HI-POWERED
• Each hot tub jet can be lit with bright multi-colored LED Lighting
• Several distinct color modes available
HI-FUNCTIONALITY

• Each jet features independent on/off functionality
• Each light comes on when the jet is set to max and off when shut off
HI-PERFORMANCE

• LED Lights do not impede the water's flow
• Unobstructed flow means these jets are designed to perform

Cascade LED Waterfall
The soothing sounds of a Cascade waterfall enhanced with LED lighting captures all your senses, adding to your overall relaxation experience. Standard on all VP models.